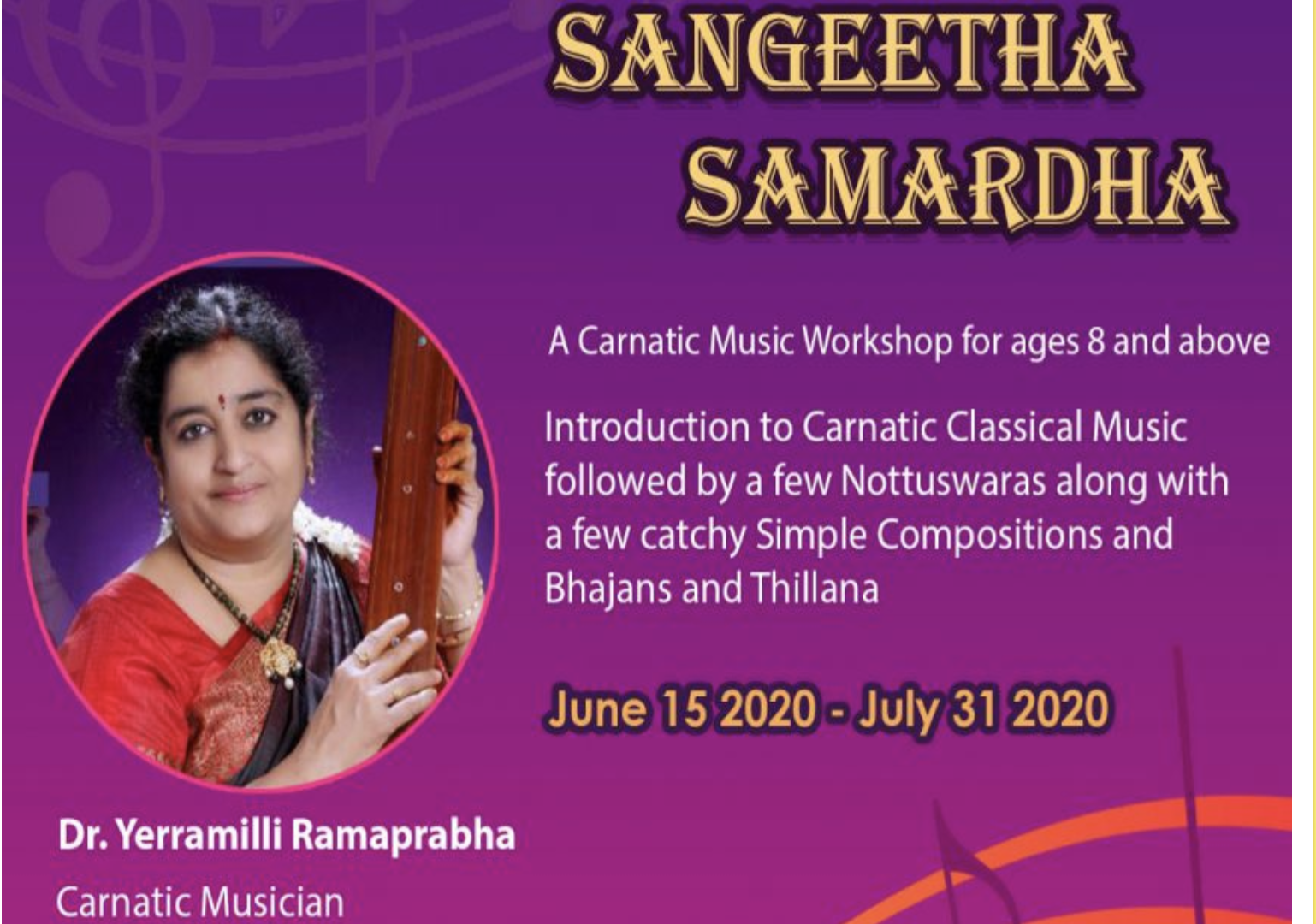 Summer is upon us, and amid the Coronavirus lockdown this allows more time for kids and a fantastic opportunity to learn music. It is during such trying times that we realize its true purpose of connecting souls and bringing succor when little else can. We believe in the power of the arts. It can inspire, transform, protect and guide.
TASC is very excited to join hands with the professional Carnatic musician Dr. Yerramilli Ramaprabha garu to host "Sangeetha Samardha", an online music workshop free-of-charge for our TASC members. Our goal is to inspire students to appreciate the arts, motivate them to learn and sing and teach them ways to incorporate music into their lives. This online workshop offers Carnatic vocal classes for ages 8 and above. Classes will be taught in fun, interactive and engaging method covering both theoretical and practical aspects. Students will be given personal attention and will be provided with regular feedback.
Participants who successfully complete the workshop will receive a certificate.
Dr Yerramilli Ramaprabha has been a professional classical musician with a rich experience of over three decades. She was awarded PhD for her research on Sri Muthuswamy Dikshitar by Sri Padmavathi Mahila University. She has done enormous research on various known and lesser known vaggeyakaras and has presented around 55 thematic presentations about them. She has been awarded the Senior Research Fellowship by CCRT in 2018. She has been passionately training students in classical music for the last two decades. She has been instrumental in establishing Andhra Mahila Sabha to its present glorious condition, working in various capacities as a lecturer, HOD and Principal.
She has started Sammohana, a school for vocal music, with the motto, Sangeetam for Sanghahitam. The students are trained to sing with Bhava, an important element in presenting classical music.