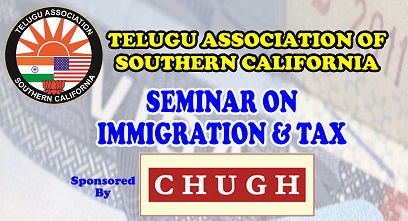 Seminar on Immigration and Tax
Hello Friends, Part of TASC's community service, we are hosting a seminar "Immigration and Tax" in association with Chugh Firm, a full-service Law and CPA firm based in Los Angeles, to address concerns on present confused state of travel and immigration policies and to educate on Tax planning.
Chugh Firm does corporate, tax, immigration, litigation, employment, and mergers & acquisition work.
Topics:
Immigration: Recent Executive Orders and Updates in Immigration
Speakers: Gladys Gervacio, Shafiqa Kureshi
Tax: Recent changes in tax rules / Important information for tax filers
Speakers: Jagrut Shah, Satya Reddy Yeruva
Date: Sat, Mar-04 from 4 PM. Please arrive on time to avoid disturbance to seminar
Location: Sanatan Dharma Temple, 15311 Pioneer Blvd, Norwalk, CA 90650
It's a FREE event and open to all So Cal Telugu members but RSVP is recommended.
RSVP Link: http://evite.me/U3PF1DSwSK
Send your questions in advance to Immigration@mana-TASC.org (Immigration related) / Tax@mana-TASC.org (Tax related)
Please share it with your friends
Thank you
TASC Executive Committee
www.mana-tasc.org
ec@mana-tasc.org
FB.me/TASCPage
Ph:(805) 418-0896