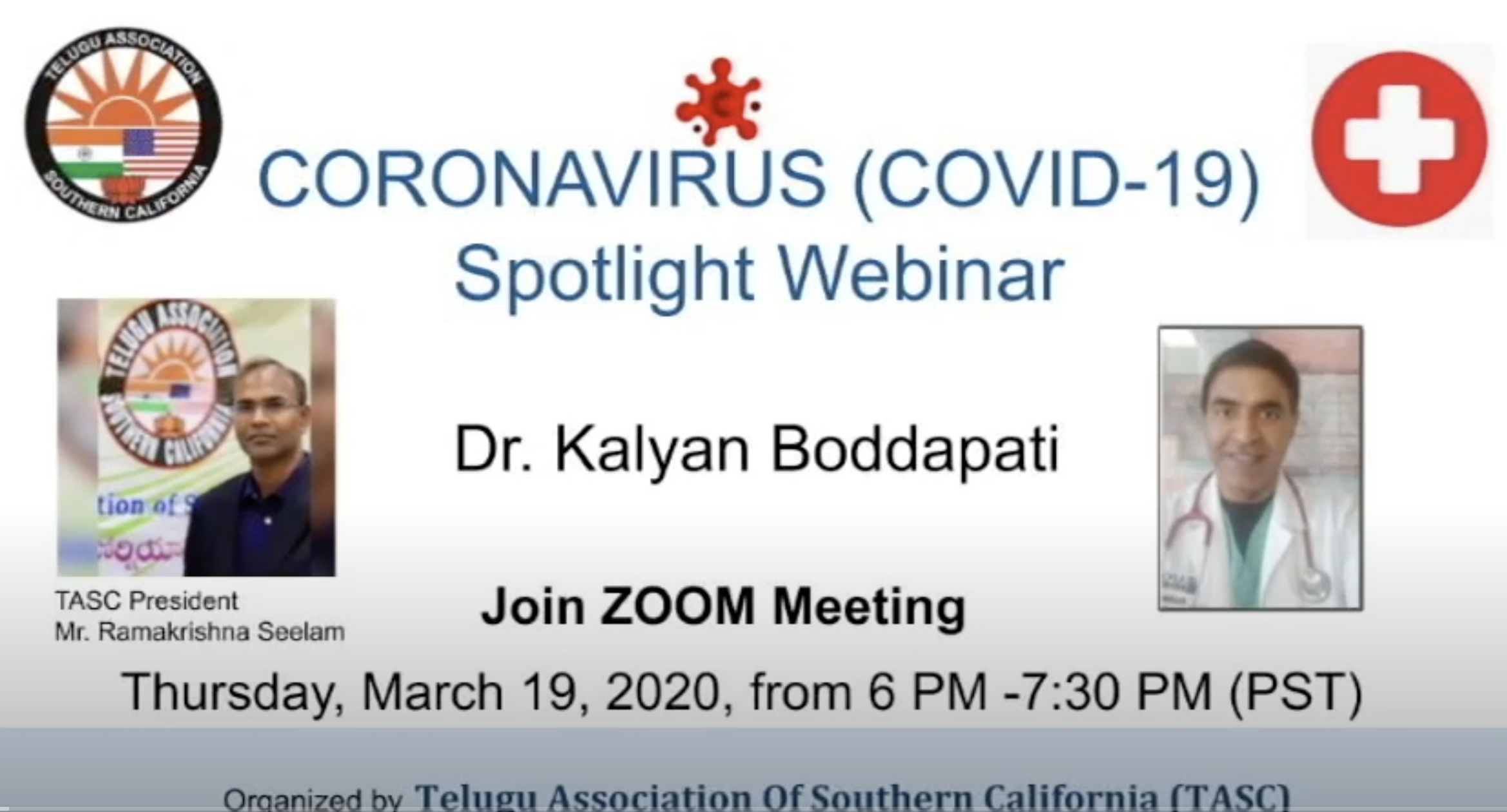 *CORONAVIRUS (COVID-19) Spotlight Webinar Organized by TASC*
*Please join us on a Coronavirus webinar with Dr. Kalyan Boddapati on Thursday, March 19, 2020, from 6 PM -7:30 PM (PST)*
The outbreak of the highly contagious and deadly coronavirus is the latest global health crisis to capture the headlines and the fears of the world. There is an overwhelming amount of information being circulated through Mobile phone messages and internet on coronavirus. With daily updates from health officials, there is both a surfeit of information and plenty of misinformation about the disease, its spread, its origin, treatment and prevention.For common people, it is very difficult to process the massive information and mis-information under circulation and filter the correct and practical information. It is always helpful to hear from an expert in the field. TASC contacted Dr.Kalyan Boddapati specialist in internal medicine and expert in the field for educating us on the outbreak of Coronavirus pandemic, its spread, treatment and prevention.
Dr. Kalyan Boddapati who is an internal medicine specialist based out of Fayetteville, North Carolina. He attended and graduated from medical school in 2002 and has over 16 years of diverse experience, especially in Internal Medicine. He is currently working full time at Person memorial hospital and part time at Cape Fear valley hospital in Fayetteville in addition to Duke affiliated regional hospitals He also works with other doctors and physicians as a part of medical groups including but not limited to Apogee Medical Group North Carolina.
Interactive Q&A available.
Meeting ID: 785 459 648
Password: 301097
One tap mobile:
+16699006833,,785459648#