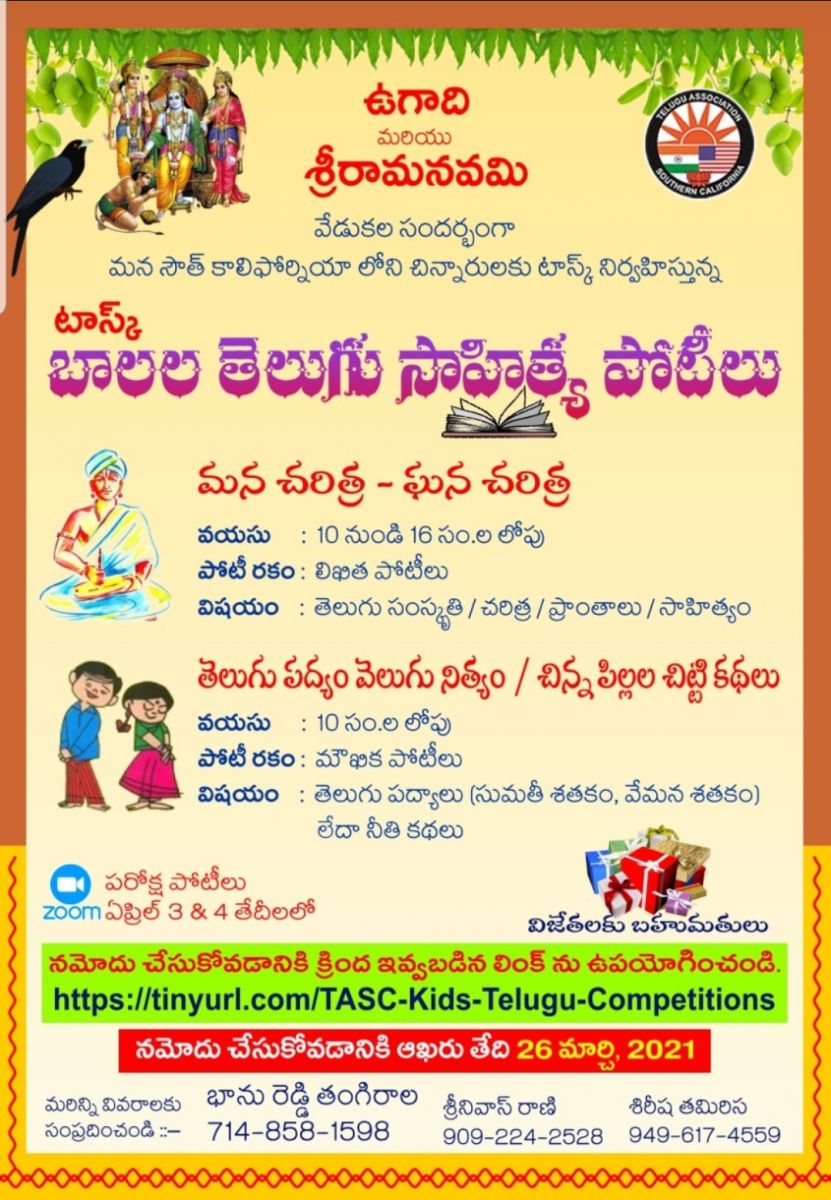 👧👦 *టాస్క్ బాలల తెలుగు సాహిత్య పోటీలు*✍
టాస్క్ ఉగాది మరియు శ్రీరామ నవమి వేడుకల సందర్భంగా టాస్క్ నిర్వహిస్తున్న *బాలల తెలుగు సాహిత్య పోటీలు*
*KIDS LITERATURE COMPETITIONS* on the occasion of TASC Ugadi and Sriramanavami Vedukalu for kids under 16 years of age.
👉Virtual Competitions to be held on April 3rd and 4th.
👉Prizes for winners/Certificates for participants.
👉 Two age categories to compete.
📝 *మన చరిత్ర - ఘన చరిత్ర* :
*Age Category*: 10 to 16yr
*Competition type*: Written
*Topics*: Telugu Culture/History/Regions/Literature (తెలుగు సంస్కృతి/చరిత్ర/ప్రాంతాలు/సాహిత్యం)
🎙️ *తెలుగు పద్యం వెలుగు నిత్యం / చిన్నపిల్లల చిట్టి కథలు*
*Age Category*: under 10 years.
*Topics*: తెలుగు పద్యాలు (సుమతీ శతకాలు, వేమన శతకాలు) OR నీతి కథలు
Last date to register: March 26th 2021
Don't have the TASC app? Get it now.