TASC Food Drive,

a small initiative to help local community

With all your support, we raised 2,203.86 so far towards TASC Food drive

You OR your friends missed donating ??? don't worry... See below options to donate. !!!

List of donors:
Anitha Mullangi
Bayapa Reddy Dadem
Bhanu Kalvakota
Bhanu Reddy
Bhargav Yalamuri
Bhuvana Jeyakumar
Brahma Reddy Beriveera (Houston, TX)
Butchi Reddy Yalamuri
Chandrasekhar Palliboyina
Chitra Nachi
Deva Revuri
Dushyanth Dokuru
Gayathri Nagisetty
Harinder Tallapalli
Harish Vennam
Jaipal Reddy
Kanchrakuntla Venkata Rami Reddy
Krishna Seelam
Kumar Talinki

Mahesh Gupta
Mallikharjun Reddy Bonthu
Nagaraju Buddhiraju
Narendra Kavarthapu
Oruganti Venkata Rao
Prasuna Basani
Praveen Alla
Radhamohan Ramisetty
Raj Gujjula
Ram Koditala
Ramakrishna Seelam
Rao Kalvakota
Sakuntala Velchuri
Sangram Reddy
Santosh Gantaram
Satya Reddy
Seetha Kowluri
Shirisha Koditala
Siddu Yadalla

Sistla Suresh
Sitaram Pamireddy
Sreedhar Bandlamudi
Srini Chilukuri
Srinivas Arvapally (Albany, NY)
Srinivas Popuri
Srinivas Rani
Srinivasa Sunkara
Srinivasu Bhamidipati
Sudheer Kota
Sujatha Reddy
Surya Gangireddy
Syam Ivaturi
Venkat Mallidi
Venkat Payyala
Venkata Kalavakolanu
Venu Ryali
Vijay Alisetty
Vijaya Sampangi
Yadunandana Reddy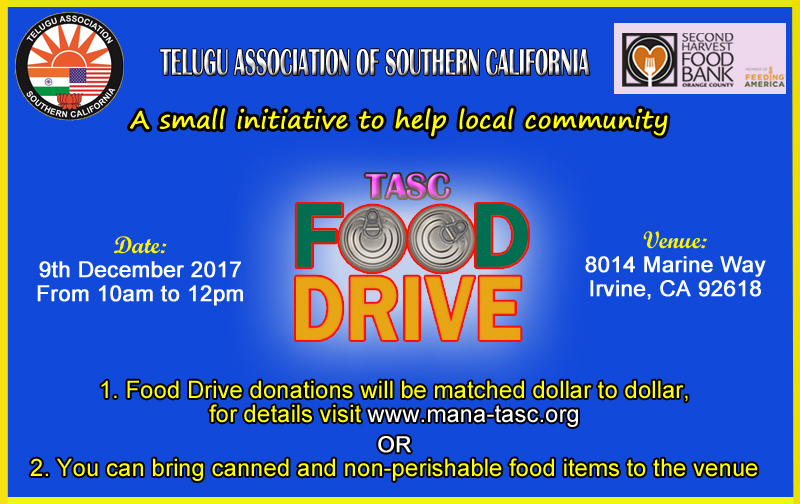 Hunger has no language, no religion, and no boundaries, small help can make a difference in the local community where we live.
Part of TASC commitment to community service, TASC is coming back with "Food Drive" to help the local community. TASC is not only about culture or entertainment, it is a committed organization to serve and extend help thru various community service programs.
Part of Food drive in Dec-2016, TASC donated 1993 pounds of food items to Second Harvest Food Bank, equates to approximately 1661 meals.
TASC is working with major donors to match Food Drive donations dollar to dollar up to $1000 and this amount will be used to buy food donations to "Second Harvest Food Bank"
How to donate?
1. Click https://www.facebook.com/donate/235330663669412/ and donate
2. Click https://www.facebook.com/donate/311393132696281/ and donate
3. Click on https://www.facebook.com/TASCPage/ and click on "Donate" Button
If you wish to donate non-perishable food, please bring them to the venue on Saturday, 9th December-2017 between 10 am and 12 pm (see the needed list of items below)
SECOND HARVEST FOOD BANK OF ORANGE COUNTY
8014 Marine Way, Irvine, CA 92618
Phone: 949.653.2900, https://feedoc.org
"If you can't feed a hundred people, then feed just one.", -- Mother Teresa
"35 million people in the U.S. are hungry or don't know where their next meal is coming from, and 13 million of them are children. If another country were doing this to our children, we'd be at war." -- Jeff Bridges
(List of Food Drive donor names will be published in TASC Newsletter, TASC FB Page, APP and Website)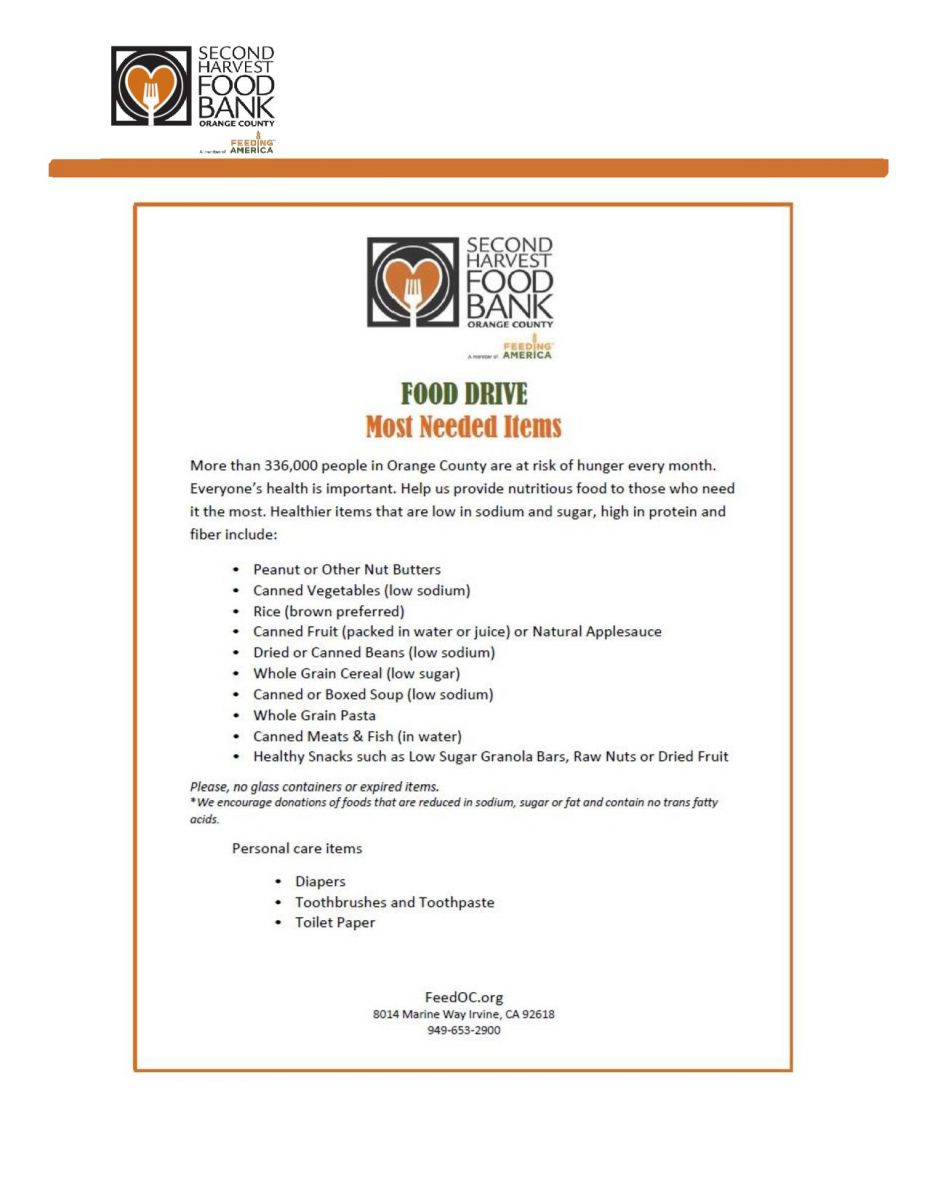 Thank you
TASC Team