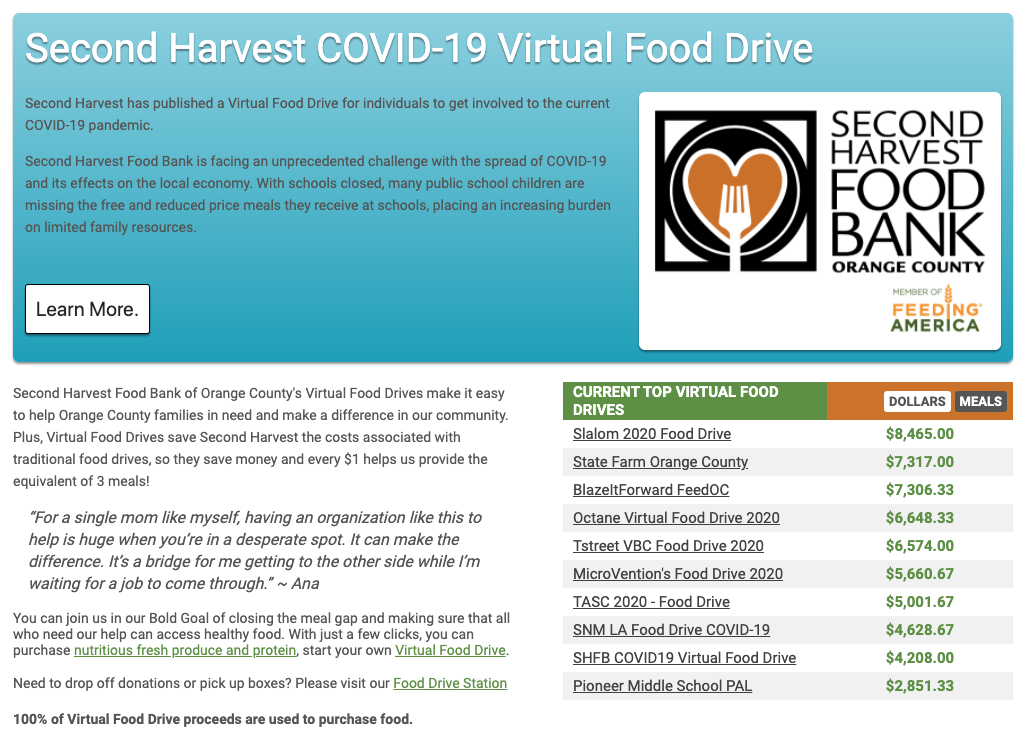 Thank you for your kind and generous donations and un-wavered support to TASC COVID-19 local virtual food drive campaign 🙏
The virtual local food drive response is historic, unprecedented and phenomenal and hugely successful. Simply put
We are a minute fraction of the community by the numbers. Yet we proved that numbers doesn't matter and what matters is the big hearts in turbulent times.
TASC 2020 Food Drive is listed in the TOP 10 food drives in the entire Orange County. It is a great and commendable achievement and we are proud of it.
$5,001.95 | 18,007 pounds of food | 15,005 meals
achieved 200% of our targeted goal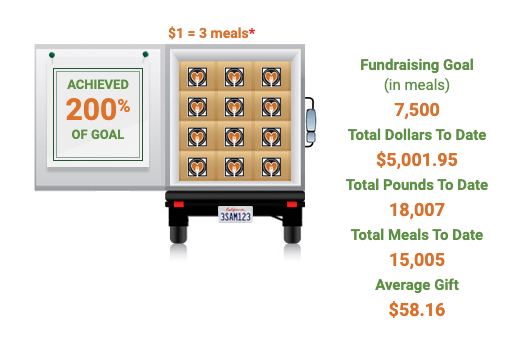 We are sure that you are aware, a collective effort is necessary to help alleviate the effects of the Corona virus here in our community especially . We thank the wonderful outpouring of support from our friends and the community for supporting our neighbors in need to feed them in these trying times.
The Telugu Community's response to TASC's virtual Food Drive was incredible. We are pleased to let you know that we had a phenomenal food drive effort. Because of the generosity of many, we surpassed our goal.
We are touched by the magnanimity of everyone who participated. Thank you to everyone for the generosity shown and the support we have received for our virtual food drive. Thanks to your overwhelming response, our food drive made it to the top 10 virtual food drives of Orange County. Such a remarkable accomplishment in giving can be directly attributed to the efforts and support from people like you who are committed to making an impact on the community.
All the money raised is going to Second Harvest Food Bank of Orange County, which is working extremely hard to meet the demand due to COVID-19.
Food drive accomplishments by the numbers.
We raised $
5001.95
providing more than
18,007
pounds of food. Over
15,005
meals are going to be available for people in need in the community.
TASC sincerely and deeply appreciates all your generosity and support to this noble cause. TASC while congratulating all the donors, would like to proudly acknowledge the below donors who made this event grand success:
Radha Sarma, Krishnama Raju, Ramakrishna Seelam,
Surendra Dara, Sreenivasa Sirigiri, Sandeep T,
Balakrishna Thati, Pardha Madduri, Bayapa Dadem,
Shanmukha Donepudi, Ramakrishna Tadi, Rani Prattipati,
Koti Meka, Sarath kamineni, Krishna Seelam,
Rahul Vasireddy, Prasad Garimella, Ramakanth Chavaly
Sreeni Reddy Padigepati, Naveen Kumar Bhumandla,
Srinivasa sunkara, Anitha Katragadda, Venu Reddy Katkuri,
Ramakanth Chavaly, Yadunandana Vazrala, Satish Nanduri,
Venkata Kalvakota, Venkata ravipati, Sreedhar Chagantipati
Koti Reddy Kondu, Kishore Tangirala, Mohan Bathula,
Venkata Mallidi, Radhamohan Ramisetty, Nagaraja Emagowda,
Narsimha Dhyasani, Siva Kotha, Kiran Chalamalasetty,
Mahesh Nukala, Venu Bandari , Rajendhar Gujjula,
Sitarami Pamireddy, PrasadRani, Butchi Yalamuri,
Radhakrishna Mudiganti, Krishna Vangaveti, Ram Koditala,
Sridhar Pavithram, Saketh Sathvik Tamirisa,Vijay Vanamareddy,
Nagaraj Shivakavi, Srinivas Chilukuri, Srikanth Ratnala,
Venugopal Reddy Gurram, Kondala Vayineni,
Mallikharjun Bonthu, Srinivas Nallapareddy,
Karthik Muthukrishnan, Amarender Reddy Kethireddy,
Vijay Alisetty, Jaipal Samula, Nagaraju Bussa,
Mahesh Kapadam, Harinder Tallapalli, Venkat Kanchrakuntla,
Praveen Alla, Kumaraswamy Talinki,Raju Guttula,
Prasuna Basani, Balreddy Gummadi, Saravanan Markandan,
Venkateswara Rao Peyyala, Sujatha Pennabadi,
Sreenivasula Reddy Pochimireddy, Venkata Devata,
Gandhi Namani, Suvarsha Kamarsu, Mahesh Chimbili,
Selvi Ramakrishnan, Sreevani Alla, Amar Konatham,
Sakthi VijayBalu, Chandramohan Kuntumalla, VenkataBhasuru
🙏
TASC is for you, with you and for the local community
🙏